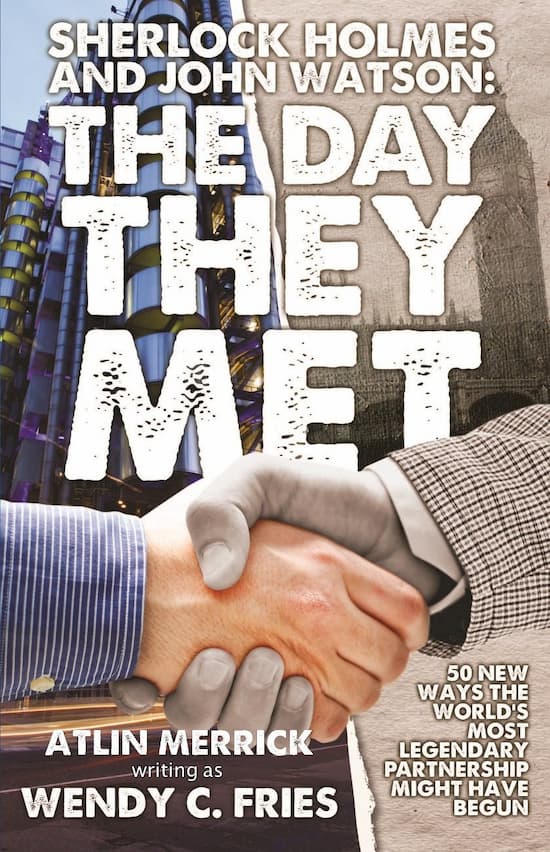 Sherlock Holmes and John Watson: The Day They Met
---
Fifty new ways the world's most legendary friendship might have begun…
Sherlock Holmes and John Watson have wandered far from the light of Victorian gas lamps. As Holmes and Watson they've tangled with Nazis, as Sherlock and John they roam the corridors of New Scotland Yard.
In a world of so many fresh adventures, why not fresh beginnings to those adventures?
From an 1879 Kabul train station to a King's College lecture theatre in 2015, The Day They Met includes stories both classic and contemporary, offering fifty intriguing new ways that the world's most legendary partnership might have begun.
Writing as Wendy C Fries, The Day They Met is Atlin Merrick's first book of re-imaginings of other ways the friendship of Sherlock Holmes and John Watson may have begun. It was followed by The Night They Met.

Praise for The Day They Met
"[The Day They Met] should
delight all Sherlockians of all ages"
– Margaret Walsh

"each tale is a glorious new vision
into a meeting so fatefully inevitable"
- Melbourne Review of Books
"you will simply not be able to stop smiling,
chuckling, and laughing right out loud as
our favorite detective and doctor meet
each other anew over and over"
- Cynthia P Vance
"a fabulous book, worth every penny;
wonderfully written, this book is funny
and touching in equal measure"
- Angela Weeks
---
Share this Product
---
More from this collection