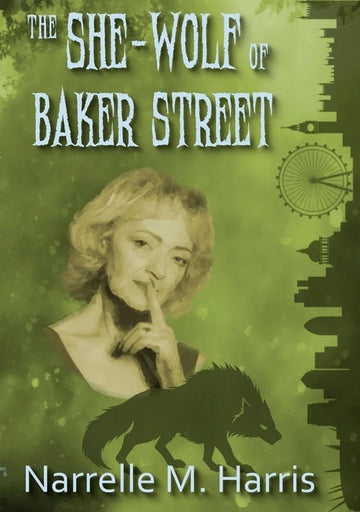 The She-Wolf of Baker Street
---
In Narrelle M Harris' She-Wolf of Baker Street, Audrey Hudson takes the lead in this contemporary, paranormal take on the residents of Baker Street.
After Sherlock Holmes "rescues" Audrey Hudson from a kidnapper, she offers him her upstairs flat in exchange for solving the unsolved murder of her family in Edinburgh. Sherlock's being forced to theorise without data, however – he doesn't know his new landlady and her late family are werewolves.
There's a lot he doesn't know about his attractive new flatmate, John Watson, too.
Momentum is added to the case as Sherlock's investigations suggest a much bigger mystery is at play, involving a disturbing case on Dartmoor with a Greek interpreter; Sherlock's agoraphobic sister, Myca; Audrey's long-dead love, Ruby Stockton; and the fate of Great Britain's mystic heart.
Will Holmes be able to unravel the mysteries that have haunted Audrey's life? And can Audrey protect her new pack, or is she about to lose those she loves once again to unknown enemies?

Australians:
Order The She-Wolf of Baker Street
at domestic Australian prices and shipping
Publishing August 2023
---
Share this Product
---
More from this collection