• Dark Cheer: Cryptids Emerging • Marlaina Cockcroft • Tips for Library Readings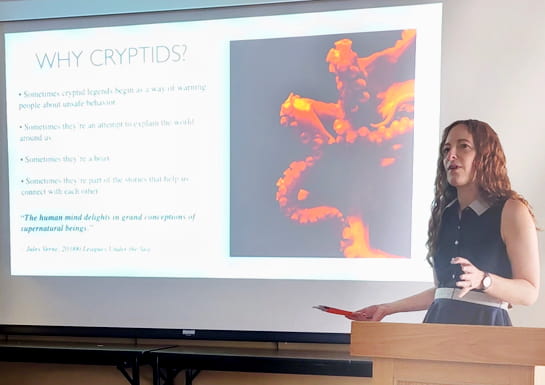 By Marlaina Cockcroft My short story, "Leviathan," is one of those featured in the Improbable Press anthology Dark Cheer: Cryptids Emerging (Volume Silver). Since the anthology is all about cryptids, I was delighted to be able to do a library presentation about cryptids! Based on that fun experience, I learned some tips for future library presentations: Bring a water bottle, so you don't spend the entire talk worrying that your voice is going to die on you. Remember that everyone knows what the Loch Ness Monster and mermaids are, but not everyone knows the word cryptid. You might need to correct...
---
• Marlaina Cockcroft • Submitting to Anthologies
By Marlaina Cockcroft As one of the writers whose work was accepted in the next anthology from Improbable Press (which makes me quite happy!), I'd like to share some thoughts on submitting to anthologies. Here's how I see anthology calls for submissions: They're cool writing prompts that could lead to publication. Sometimes this works out, sometimes it doesn't. The story I submitted to "Strange Fire: Jewish Voices from the Pandemic" got accepted (and the anthology is out this month!). Stories I've written for consideration in other anthologies have gotten rejected, and I've been researching magazines/other publications to send them (some...