• Atlin Merrick • Cryptid Anthology • The Veldt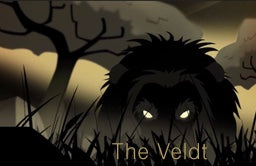 By Atlin Merrick EVERYONE LOVES CRYPTIDS! I'm sorry-not-sorry for yelling at you. Except— Everyone loves a cryptid! —that. That's the conclusion I come to after we closed our call for submissions for what will be our anthology Dark Cheer: Cryptids Emerging. Because for that single anthology we got 450 stories. And that's a slightly conservative count since many of the emails contain more than one story and do you know why? You Love Cryptids Over the five months of the open call we received submissions daily, story after story of cryptids both 'known' – hello Jersey devil, Mothman, and mermaid!...
---
• Atlin Merrick • Cryptid Anthology
I've always loved cool-creepy cryptid stories. That's why Improbable Press is doing a cryptid anthology in 2021, and why I encourage you to submit a story (after checking out our guidelines above). What I'm encouraging me to do is read again, about these creatures I loved so much as a kid. The Loch Ness monster (Nessie, I still have the artwork I drew of you when I was eleven!), Bigfoot (you're famous in Oregon, where I used to live), and jackalopes (hello Moon, spokes cryptid for our pending anthology). Do I believe in these creatures? Yes. Also no. See, it's...
---
• Call for Submission • Cryptid Anthology
Now closed with 470+ submissions, thank you! Cryptids Emerging: Tales of Dark Cheer Cryptids: they're sea monsters and jackalopes and bigfoot. Cultures worldwide have stories of their own, from Puerto Rico's chupacabras, Scotland's Nessie to the Congo's Mokele-mbembe, cryptids are creatures from folklore, they're rumours, or in the case of this anthology…real. That's what our call for submissions is for: contemporary supernatural or historical fantasy about cryptids living with humans, or just at the edge of our vision, stories of what the world would look like if cryptids were real. What We Want Pick a cryptid from legend or make...